Beauty & Self
Books & Music
Career
Computers
Education
Family
Food & Wine
Health & Fitness
Hobbies & Crafts
Home & Garden
Money
News & Politics
Relationships
Religion & Spirituality
Sports
Travel & Culture
TV & Movies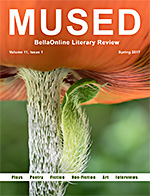 In our modern world of 24-hour diners and around-the-clock email, it sometimes seems as if we've lost track of nature's cycles. But then the Spring Equinox comes along and reminds us to pause. For thousands of years, cultures around the world have recognized this one special day as representing a balance of light and dark. It's a unique moment in time where our world settles in equilibrium – just for a breath. And then the sunlight shines out and pulls us deeper into Spring.

Enjoy the Mused Spring Equinox 2017 Issue



Fabric Yo-Yos
Sewing - Cheryl Ellex, Editor

Fabric yo-yos, or fabric rosettes, are those delightful gathered circles sewn from little more than a round disc of fabric and a running stitch so quick and easy to make and yet a pleasant way to make use of colorful fabric scraps.




Making Father's Day Gifts
Crafts for Kids - Launa Stout, Editor

What kind of things does your dad like? What does he like to do in his spare time? Figure this out and it will be easier to decide what to make him for Father's Day.




Jungle Tales - Book Review
Children's Books - Launa Stout, Editor

Although this book was originally written and published in 1918 by Horacio Quiroga (1878-1937), this edition of the book was translated to English by Jeff Zorrilla.




Tomato Juice and Sperm Motility
Infertility - Hannah Calef, Editor

Regular tomato juice consumption may help to improve sperm motility




Giving
Bible Basics - Sunnie Jackson, Editor

Giving is an important aspect of Christian living. Do you understand tithing? How should your giving please God? Read this article then search your heart to see if God is pleased with your offerings.




Typhoid Mary
History - Vance Rowe, Editor

Typhoid Mary infected numerous people in New York city with typhoid. Some people died from it s well. She was quarantined to a clinic for almost 30 years of her 69 years of life.


| Google+ |
E D I T O R R E C O M M E N D E D
Dry Body Brush Natural Bristles


This bath body skin brush and scrub gloves will help reduce and prevent clogged pores, ingrown hair or acne problems and prepare your skin to absorb your favorite skin care products so much better.
Investing $10K in 2015


Have you received a windfall or inheritance? Confused how to manage it? Many people find the subject of investing to be complex. It doesn´t have to be. You can manage your money yourself.
Fall in Love With Your Feminine Power


This 8-week DailyOm online course incorporates meditation, energy healing, and women´s energetics work to help you heal, empower and awaken your connection to your feminine energy body. It includes print materials, video, and guided audio meditation. No prior meditation or energy work experience necessary. Embrace your full power, health, joy, and spirit!