Beauty & Self
Books & Music
Career
Computers
Education
Family
Food & Wine
Health & Fitness
Hobbies & Crafts
Home & Garden
Money
News & Politics
Relationships
Religion & Spirituality
Sports
Travel & Culture
TV & Movies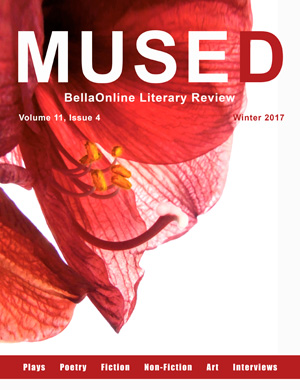 We all travel on this blue-green ball around our very own star each year, sliding a little closer, sliding a bit further away. The balance is critical. Too much closer and we'd roast. Too much further away and we'd freeze.

We should be aware of just how blessed we are that our Earth is "just right" - and do what we can to keep our world healthy. It's the only one we have.

Enjoy the Mused Winter Solstice 2017 Issue



INTERVIEW 1 Graeme Smith
SF/Fantasy Books - Evelyn Rainey, Editor

First of two interviews with Fantasy Author Graeme Smith of the Dark Circle series.




Shopping in the US is fun
Romantic Getaways - Marianne de Nazareth, Editor

It's fun to shop in the US, especially if you get great deals on branded clothes.




Laundry Room Tips & Tricks
Cleaning - Tammy Judd, Editor

Laundry can be overwhelming to any of us. I have recently been conducting research to find ways to make doing and completing your laundry ever so much easier!




Sewing by the Yard
Sewing - Cheryl Ellex, Editor

What can be made with just one yard of fabric? Plenty! Think throw pillows for the couch, chair or bed, squares of fabric hemmed on all edges to softly drape over kitchen countertop appliances, or even a simple table or dresser scarf are just a few projects to consider and of course so much more.




I Love Tasty Cookbook Review
Quick Cooking - Karen Hancock, Editor

Those food videos that everybody posts to Facebook are captured in a delightful cookbook geared for busy cooks who want to get out of the kitchen fast. Fun!




Photoshop Elements 2018 Layers Panel
Digital Art and Design - Diane Cipollo, Editor

In this tutorial, we will learn how to use the Layers panel in Adobe Photoshop Elements. The Layers panel is one of the most important panels in PSE. It allows you to control and organize the design elements in your project.


| Google+ |
E D I T O R R E C O M M E N D E D
The Simple Way to Invest Successfully


Does investing seem too complex? Are you confused about how to invest successfully? Many people fail to invest well because they make money issues too complex. Many others never get started investing because they don´t understand the basics of stocks, bonds, and mutual funds. Investing doesn´t have to be difficult.
Buddha´s Daughters


Buddha´s Daughters: Teachings from Women Who are Shaping Buddhism in the West is a collection of teachings compiled and edited by Andrea Miller, a writer and editor at the popular Buddhist magazine Shambhala Sun. It includes beautiful teachings from some of the most prominent women teachers in the West, including Lama Tsultrim Allione, Sharon Salzberg, Tara Brach, Pema Chodron, and more.
Italki... Learn a language!


Willing to learn/practice a language? Italki is the place! Find native speakers (almost any language in the world). You will also earn $10 USD in italki credits! Help others and learn another language in exchange or schedule an online class with a native community tutor or a teacher. (Italki image from www.italki.com)