Beauty & Self
Books & Music
Career
Computers
Education
Family
Food & Wine
Health & Fitness
Hobbies & Crafts
Home & Garden
Money
News & Politics
Relationships
Religion & Spirituality
Sports
Travel & Culture
TV & Movies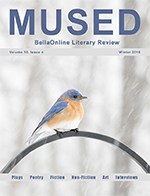 Sometimes it seems as if winter quotes make winter out to be a necessary evil which exists only for us to appreciate the subsequent warmth. Shelley: "If winter comes, can spring be far behind?" Shakespeare: "Now is the winter of our discontent made glorious summer by this sun of York." Hugo: "Laughter is the sun that drives winter from the human face."

But winter is far more than a down against which to compare the subsequent ups. Winter is a powerful, magical time. It is a season of strength. Of looking inward and finding focus. Bob Seger stated, "I write probably 80 percent of my stuff over the winter." Terri Guillemets reminds us, "The color of springtime is in the flowers; the color of winter is in the imagination." The Winter Solstice is a time to embrace the mysterious. The endless possibilities. The sense that we already have, within ourselves, boundless creativity and opportunity. We simply have to still ourselves and listen.

Winter is a powerful season. It gives us that space to look back and learn from our history. To look forward and envision what we wish to become. To be fully mindful of the present and be aware how each day has potential for us to speak out and impact the way our world proceeds. To move us toward peace, fulfillment, and an appreciation of what each of us has to offer.

Happy Winter Solstice.

Enjoy the Mused Winter Solstice 2016 Issue



Review Natural Solution Salt Inhaler
Holistic Health - Teresa Post, Editor

Are you looking for a simple and natural way to enhance your sinus and respiratory health.? A Himalayan salt inhaler may interest you.




Cleaning & Organizing Your Pantry
Cleaning - Tammy Judd, Editor

Some pantry's are large and spacious while others can be cramped and tiny. No matter where your pantry falls on the size spectrum some basic cleaning and organizing can really make a difference - in time AND money!




2015 - Spectre
Movie Mistakes - Isla Grey, Editor

Bond is on a mission left to him by the former M. But the mission may be bigger than he realizes when he uncovers an organization called Spectre. Try to find these movie mistakes in 2015's "Spectre".




Callaway Winery Temecula CA
Wine - Peter F May, Editor

When Peter F May visited Callaway Vineyards and Winery in 2002 it was the largest winery in in California's Temecula Valley. Now under private ownership it is a small boutique operation hand making quality wines. Peter took a tour.




Clay Pot Coffee - Cafe de Olla
Mexican Food - Mickey Marquez, Editor

From sweet to savory dishes, clay pot cooking imparts a delicious and unique flavor to food. An ancient secret, consider making an entrance into clay pot cooking with Mexico's hauntingly delicious sweet brew, "Cafe de Olla." A sweet coffee that is easy to make and wonderfully satisfying to drink.




Mrs. John Doe Book Review
Suspense / Thriller Books - Karen Hancock, Editor

Nora Baron goes to England to identify and take the body of her husband home. Before she goes, however, she becomes involved in an illegal arms plot, several murders, and a living nightmare. Tom Savage has done an excellent job on this novel and it is recommended.


| Google+ |
E D I T O R R E C O M M E N D E D
TomTom ONE 130s GPS


Looking for a great GPS unit for your car? The TomTom ONE 130s is a great, moderately priced GPS system with text to speech capabilities. Spoken street names and TomTom´s EasyPort mounting system make this a terrific GPS unit!
Dry Body Brush Natural Bristles


This bath body skin brush and scrub gloves will help reduce and prevent clogged pores, ingrown hair or acne problems and prepare your skin to absorb your favorite skin care products so much better.
Addicted to Stress by Debbie Mandel


A Woman´s 7 Step Program to Reclaim Joy and Spontaneity in Life (Hardcover) In this highly original program for stress reduction, stress management expert and radio personality Debbie Mandel explains that women who are constantly stressed out have forgotten the dreams of the free-spirited girl living inside them before they became somebody's wife, mother, or workplace colleague.